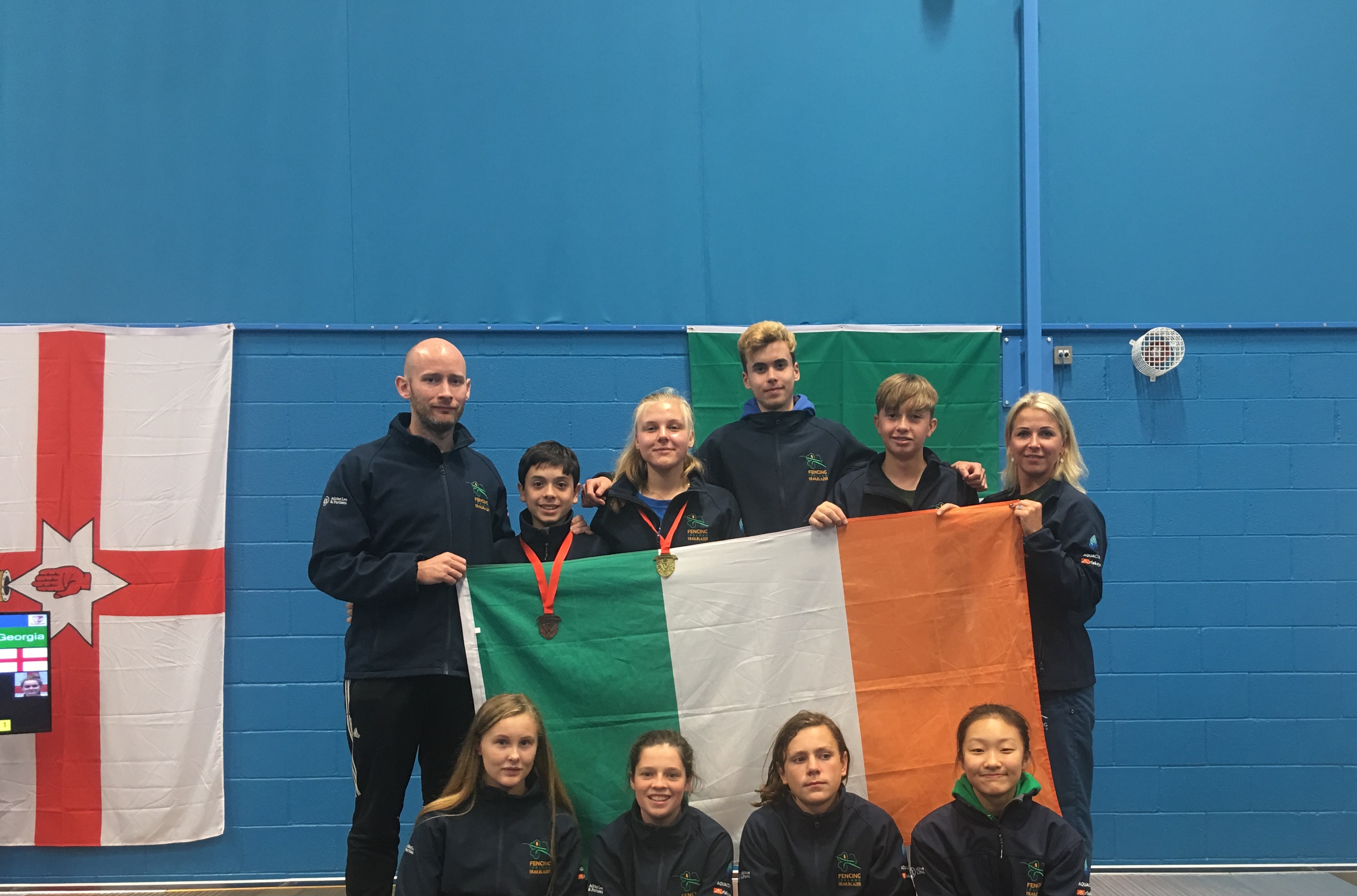 The parents' guide to competitions
When should you start competing?
It does help to know which end of a sword to hold, and which to poke with! At least 6 months regular attendance at a club is probably about right. After that the best time is when you feel ready – if you wait until you think you can win, you will probably wait forever – while you are practising and perfecting your skills, there are other fencers out there doing the same thing, and getting competition experience at the same time. They might not be winning, but they will be improving faster than by club training alone!
Tips for fencers
 Warm up thoroughly before your first bout and again if there is a gap of more than about 15 minutes between bouts.
Remember "Fencing Etiquette". Salute your opponent and the referee at the beginning of the fight and shake hands at the end.
When you are not fighting, stay near your pool. Fights can finish very quickly, and referees get annoyed when fencers vanish!
If you don't understand a decision, ask politely for the referee to explain it, but don't argue.
At the end of the pools, check the pool sheet to ensure that your results are recorded correctly. It's much easier to sort out mistakes if they are picked up immediately.
Try not to show excessive pleasure in winning a hit or bout, or bad temper on losing one. Throwing down masks or swords is considered very bad sportsmanship.
 Tips for parents
To register for fencing competition, first of all, you need to get an Irish licence. You can get it online https://irishfencing.net/licence-application/ , it is free of charge for children.
Then check competitions in Youth Calendar: https://irishfencing.net/youth-fencing/youth-calendar/
Pembroke holds 3 children`s competitions in Dublin and there are 6 competitions in NI,  Junior Foil Series.
To register your child for competition in Dublin please contact Pembroke Fencing Club by email
Registration for NIJS: https://www.nifencing.com/events/
To compete in NI need to have full fencing kit with you (mask, jacket, underplastron, glove, 2 foils, 2 body wires, lame), if you compete in Dublin, you can rent the gear from Pembroke FC for 5 euro.
Check the age categories carefully. Fencing age groups are based on ages from 1 January in the current year which means that a child who is eleven on 2 January can continue to compete as a U11 for the rest of that year.
Take plenty of drinks. In all the kit, fencers get hot and children dehydrate quickly. Avoid fizzy drinks.
Some fencers eat lots at a competition, others feel too nervous. Lots of chocolate and sweets are best avoided, but bananas, dried fruit and cereal bars provide energy and are not too messy.
The time shown on the application form is for start. Check-in starts 30 minutes earlier, but if you are not there for the check – your entry will probably be scratched Take a good book. You will spend lots of time sitting around! Folding chairs are also popular.
If your child fences foil or sabre, and you are new to fencing, ask someone to explain the Right of Way rule. Inexperienced parents can get upset when their child's light comes up before their opponent's but the hit is given against them!
Wear trainers or similar. Many venues don't allow outdoor shoes in the sports hall.
Keep younger children away from the action.
Whilst the organisers of each individual event make every effort to ensure that the competitions are safe and secure, the responsibility for the welfare of the child remains with the parent or nominated responsible adult (acting in loco parentis). If, as parent or coach, you decide to leave children in your care at an event for the day please ensure that the organisers are aware of the responsible adult that is looking after your care.
Enjoy!
How does competition work?
The format of a tournament is broken down into two main sections of bouting. The preliminary round (also called the 'pools') divides fencers up into different groups. All fencers in each group fence against each other (also called 'round robin' format) and based on their results, the tournament organizer can determine how to rank (also called 'seeding') those fencers for the direct elimination round.
The direct elimination round (also called the 'DEs'), consists of a bracket of fencers competing against each other. A standard DE bout lasts for 3 periods of 3 minutes each, or a maximum of 15 touches*. The reason this round is referred to as the 'direct elimination' round is that after only one loss, a fencer is out of the tournament, and their final placement is determined by the round in which they were defeated. The last fencer standing wins the entire tournament.
Round of Pools
The purpose of the preliminary rounds is to rank (aka 'seed') fencers for the DEs. The total number of starting fencers in the competition is broken down into smaller groups, usually, 7 people, called 'pools.' Each athlete fences everyone in their pool for a total of 6 bouts. How well a fencer does in their pool is then compared to how everyone else in the tournament did in their respective pools. Note that pools do not have to contain 7 people, and due to the fact that tournaments often do not have an exact multiple of 7 participants, many tournaments will run pools of both 7 and 6* fencers at the same tournament. In the pools of 6 fencers, each fencer would then fence only 5 total bouts.
After all of the pools are completed the results are sent to the bout committee to determine the overall ranking (aka 'seeding') of all fencers in the competition.
That seeding is determined by four criteria, ranked in order of priority
Fencers are first grouped by their win percentage (This is equal to the fencer's number of bouts won divided by the fencer's total number of bouts)
Any ties in ranking based on win percentage are broken by each fencer's indicator
And remaining ties in ranking are broken by the total number of touches scored (i.e. the same number used in part to calculate indicator)
If all of the above are tied, then fencers tie out of the pools and seeding for the DEs is determined randomly.
Direct Elimination Round

Bout length
Epee and Foil bouts are fenced in a set of three periods. Each period lasts for three minutes of fencing time. Fencing time is the time between when the referee says 'fence!' and when a light on the machine is turned on. The timer is paused between touches. After each period, fencers get a 1-minute break, during which they can rest, drink water, and speak with their coach. The score is not reset between periods. Fencing concludes after the 3rd period, or when a fencer scores 15 touches, whichever comes first.
Format
The direct elimination rounds are composed of a single bracket of all the fencers that were promoted from the round of pools (in many cases, all fencers that participated in pools). These fencers then compete for head to head to determine their final ranking. The bracket is often referred to in the fencing community as the 'tableau.' Each time a bout occurs, the winning fencer advances to the next round, and the losing fencer is eliminated*. For this reason, the rounds are composed of a number of fencers equal to exponents of two: there is a round of 2, 4, 8, 16, 32, 64, 128, and 256 (most tournaments will not be larger than this).
Within each round, the format is set so that the lowest ranking fencer competes with the highest ranking fencer in that round. For example, in the round of 128, the fencer ranked 1st will be matched up against the fencer ranked 128th. The fencer 2nd will be matched up against the fencer ranked 127th, and so on all the way up to the fencer ranked 64th facing off against the fencer ranked 65th.
This format ensures that, given no upsets (where a lower ranked fencer defeats a higher ranked fencer), each person will finish the tournament according to their rank. If there are not enough fencers to fill up a round, then the highest ranking fencers will receive free passes into the next round (known as 'byes').
After a full round is completed, and one fencer advances from each match, the next round will have half as many competitors as the previous (because one fencer was knocked out of each individual match of two fencers). So if a fencer consistently wins several matches in a row after beginning in the round of 128, they will enter (respectively) the top 64, then the top 32, then the top 16, then the top 8, etc. Note that when an 'upset' occurs (a lower ranked fencer defeating a higher ranked fencer), the winner 'takes over' that spot on the tableau and continues fencing along that path.
Final placement in a competition
After a fencer loses a DE bout, their final ranking will be somewhere within the range of the round. For example, if Levy loses his next bout in the round of 8, his placement will be somewhere between 5th and 8th (because he made it into the round of 8, but didn't quite make the round of 4). Final rankings of fencers within the same round are determined by their seeding after the round of pools. The one exception to this rule is in the round of 4. At most tournaments, fencers will simply tie for 3rd place.
Direct Elimination
Group              Hits            Time Limit
Youth A             7                 6 minutes
Youth B            10                6 minutes
Youth C            10                6 minutes
Intermediate   15                9 minutes
Cadets              15                9 minutes
Points
1st place – 20 points
2nd place – 15 points
3rd place – 10 points
4-8 place – 5 points
9-16 place – 2 points
Any international competition gives double points if there are less than 50 participants.
International competition with more than 50 participants: 1st place – 80 points, 2nd place – 70 points, 3rd place – 60 points, L8 – 40 points, L 16-30 points, L32- 20 points, L64- 10 points, L80- 5 points
Opening Hours
| | |
| --- | --- |
| Monday | Closed |
| Tuesday | 06:00 PM – 10:00 PM |
| Wednesday | Closed |
| Thursday | 05:30 PM – 10:00 PM |
| Friday | Closed |
| Saturday | Closed |
| Sunday | 11:00 AM – 01:00 PM |